Dear CUHSD Community,
Reminder: tomorrow, Wednesday, January 27, is a Teacher Professional Development Day and a non-school day for students. Students can utilize this time to work independently or asynchronously.
Although tomorrow is a non-school day for students, we wanted to share resources and information with our community in anticipation of potential power outages caused by the incoming winter storm. If power outages persist after tomorrow, teachers may record their lessons and post class materials online for students to complete independently.
The incoming storm has the potential to cause power outages, high winds, and flash floods. It is important to be prepared and have an emergency plan in place.
What to do before the storm:
Make sure phones, hotspots and Chromebooks are fully charged.
Prepare an emergency supply kit with flashlights, first aid supplies, food, water and cash.
Create a safety plan for all members of your family, including pets- Visit the PG&E Safety Action Center at safetyactioncenter.pge.com for tips on how to build an emergency plan.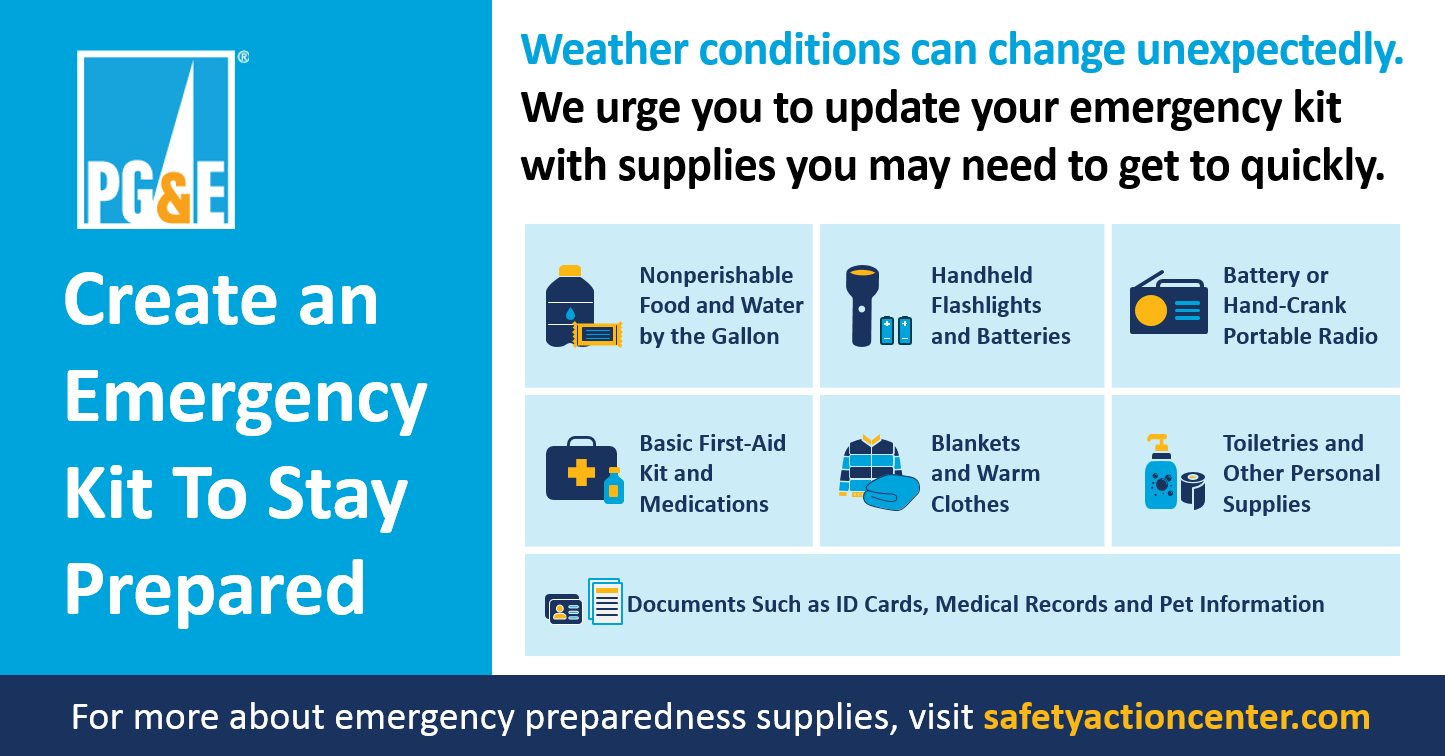 What to do after the power goes off:
Unplug or turn off appliances, equipment and electronics to avoid damage caused by surges when the power is restored.
Leave a single lamp on to alert you when the power returns. Then, turn your appliances on, one at a time.
Be sure to use generators, camp stoves or charcoal grills outdoors only. Do not use a gas stove for heat.
For food safety tips, the U.S. Dept. of Health & Human Services has a detailed list at their site: Food Safety During A Power Outage
For the latest information regarding power outages in your area, go to the PG&E Outage Map by clicking here. To stay up to date with the latest emergency information in Santa Clara County and to sign up for emergency alerts, click here.
Sincerely,
Campbell Union High School District
___________________________________________________________________________________
Estimada comunidad de CUHSD,
Recordatorio: mañana, miércoles 27 de enero, es un día de desarrollo profesional para maestros y un día no escolar para los estudiantes. Los estudiantes pueden utilizar este tiempo para trabajar de forma independiente o asincrónica.
Aunque mañana es un día no escolar para los estudiantes, queríamos compartir recursos e información con nuestra comunidad en previsión de posibles cortes de energía causados por la tormenta invernal entrante. Si los cortes de energía persisten después de mañana, los maestros pueden grabar sus lecciones y publicar materiales de clase en línea para que los estudiantes los completen de forma independiente.
La tormenta entrante tiene el potencial de causar cortes de energía, fuertes vientos e inundaciones repentinas. Es importante estar preparado y tener un plan de emergencia.
Qué hacer antes de la tormenta:
Asegúrese de que los teléfonos, puntos de acceso y Chromebooks estén completamente cargados.

Prepare un equipo de suministros de emergencia que incluya linternas, suministros de primeros auxilios, alimentos, agua y dinero en efectivo.

Cree un plan de seguridad para todos los miembros de su familia, incluidas las mascotas. Visite el Centro de

Acción de Seguridad de PG&E en safetyactioncenter.pge.com para obtener consejos sobre cómo crear un plan de emergencia.
Qué hacer después de que se apaga la energía:
Desenchufe o apague los electrodomésticos, equipos y dispositivos electrónicos para evitar daños causados por sobrecargas cuando se restablezca la energía.
Deje una sola lámpara encendida para que le avise cuando vuelva la energía. Luego, encienda sus electrodomésticos, uno a la vez.
Asegúrese de usar generadores, estufas de campamento o parrillas de carbón solo al aire libre. No use una estufa de gas para calentar.
Para obtener consejos sobre seguridad alimentaria, el Departamento de Salud y Servicios Humanos de EE. UU. Tiene una lista detallada en su sitio: Seguridad alimentaria durante un apagón.
Para obtener la información más reciente sobre cortes de energía en su área, vaya al Mapa de cortes de PG&E haciendo clic aquí. Para mantenerse actualizado con la información de emergencia más reciente en el condado de Santa Clara y suscribirse para recibir alertas de emergencia, haga clic aquí.
Sinceremente,
Campbell Union High School District