Dear CUHSD Community,
Last night you received communication from the Santa Clara County Superintendents regarding the 2020-2021 school year. As we move into summer break, I want to provide you with an update on the district's planning for the next school year and the Reopening Steering Committee's progress to date.
Let me begin by noting that the 2020-2021 school year will begin as scheduled in the fall. What is not certain is if students will return to a physical classroom or continue at home in a distance learning model or experience some combination of both. Any decision to reopen school campuses to students will be made under the direction of the Santa Clara County Public Health Department. The Santa Clara County Office of Education (SCCOE) recently published a Stronger Together Recovery and Reopening Guide with the latest information, preliminary guidance and considerations for Santa Clara County schools. It also includes Frequently Asked Questions and resources for schools and families.
Survey Results and Feedback
I want to thank you for the feedback and input you have provided along the way -- whether you served on the steering committee, a subcommittee, or provided input through surveys, zoom meetings, or a Facebook live session, I appreciate your thoughtful input.
The following themes from community input will serve as a framework as the Reopening Steering Committee finalizes recommendations and we solidify plans for the next school year.
Consistency: Implementing consistent platforms, communications and expectations for students and staff.
Community Engagement: Maintaining communication and community engagement with all stakeholders.
Collaboration: Building time for community-building and collaboration for students and teachers.
Student and Staff Health and Safety: Establish procedures and structures to ensure the health and safety of all students and staff.
Mental Health and Well-being: Develop a multi-tiered system of support for students' mental health and well-being.
Increased access: Provide increased access to high-quality instruction, academic supports and online materials to address achievement gaps or loss of learning.
You can also view the full survey results on the Reopening Steering Committee webpage by
clicking here
.
Where We Are in the Planning Process
After reviewing feedback from the community, the Reopening Steering Committee, which is made up of teachers, administrators and District Office personnel, is finalizing a set of recommendations. These recommendations, coupled with more detailed guidance from county officials, will inform our plan for the next school year.

The recommendations address a range of possible scenarios of what school could look like in the fall, including:
Fully reopening school campuses,
Providing a hybrid of distance learning and in-person school, and
Distance learning for all students.
We plan to share their full list of recommendations next week.
What's Next in the Planning Process
To keep the community informed on our framework and timeline, we've developed a summer reopening planning roadmap that outlines expected actions and milestones during the summer.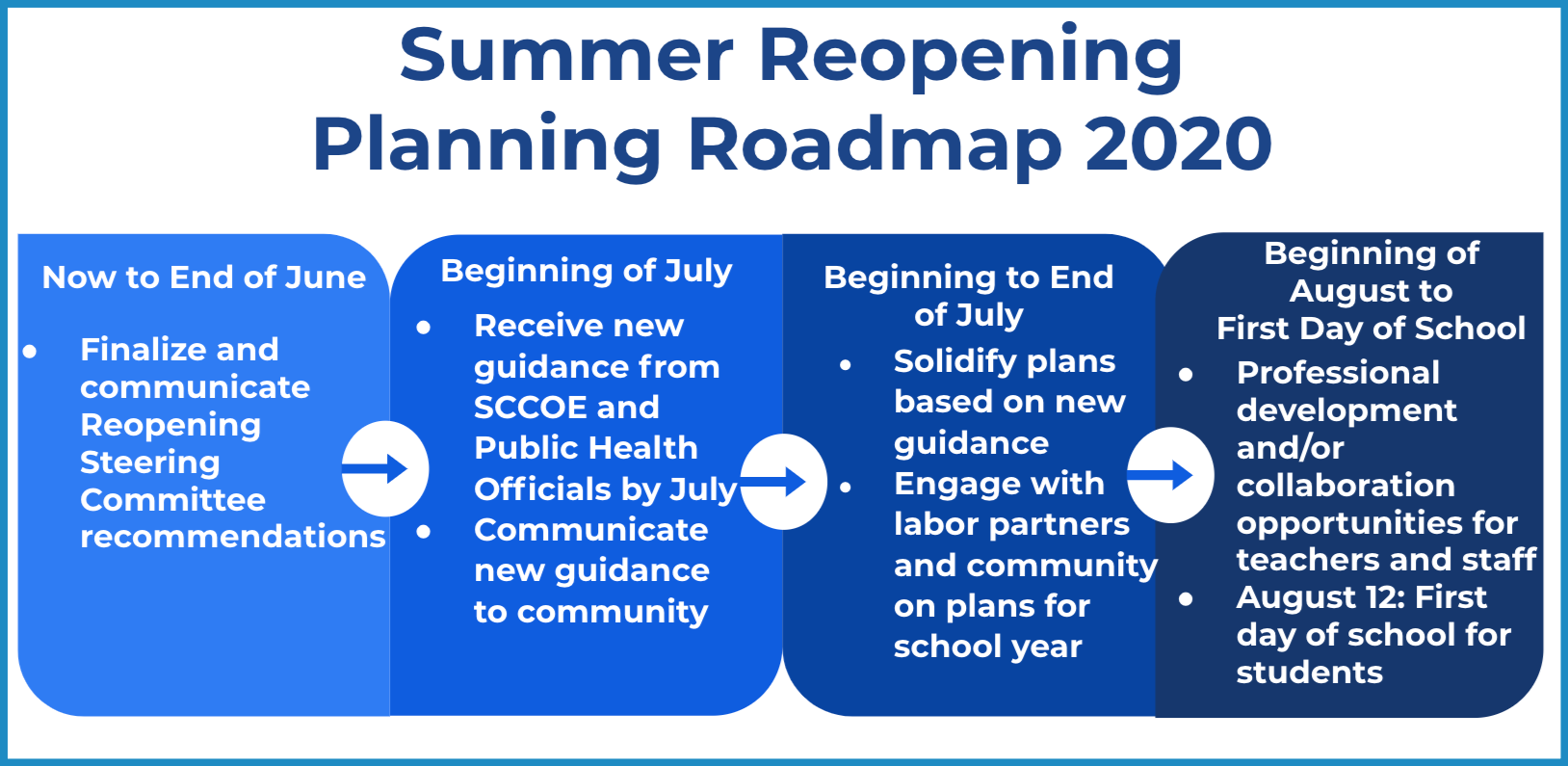 Summer Communications
Your school principals and I remain committed to providing you with timely communication throughout the summer. You can expect to receive regular email updates. We will also share alerts for new information via Remind, social media (@mycuhsd on Facebook, Instagram and Twitter) and on our Coronavirus (COVID-19) School Closure Updates and Information webpage, which can be found on the District's website under "Quick Links" or by clicking here.
I want to thank our faculty, parents, students and staff for your patience and flexibility in navigating the unique challenges we faced this year from the COVID-19 crisis. Your ongoing support is greatly appreciated.

Sincerely,

Robert Bravo, Ed.D.
CUHSD Superintendent
_______________________________________________________________________________________
Estimado Personal y Comunidad de CUHSD,
Anoche recibieron una comunicación de los Superintendentes del Condado de Santa Clara referente al año escolar 2020-2021. En cuanto empezamos las vacaciones de verano, quiero actualizar a todos en los planes del año escolar entrante y el progreso hasta la fecha de hoy del comité de reapertura.
Me gustaría empezar por hacer notar que el año escolar 2020-2021 va a comenzar en el Otoño como se había planeado. De lo que no estamos seguros es si lo estudiantes van a regresar físicamente al salon o van a continuar en casa con el modelo de aprendizaje a distancia o tal vez van a experimentar la combinación de los dos. Cualquier decisión de reabrir las escuelas a los estudiantes será bajo la dirección del Departamento de Salud de el Condado de Santa Clara. La Oficina de Educación del Condado de Santa Clara (SCCOE) publicó recientemente una Guía de Recuperación y Reapertura de Stronger Together con la información más reciente, orientación preliminar y consideraciones para las escuelas del Condado de Santa Clara. También incluye preguntas frecuentes y recursos para escuelas y familias.
Resultados de la encuesta y retroalimentación
Gracias por la retroalimentación que nos han proporcionado - ya sea que haya participado en el comité, o subcomité, o nos dio información por medio de las encuestas, juntas en zoom, o por la sesión en vivo de Facebook, aprecio sus reflexiones.
Temas del compromiso comunitario servirá como marco de referencia en como el Comité de reapertura finaliza las recomendaciones y así nosotros podemos solidificar planes para el año escolar entrante.
Consistencia: Implementando plataformas consistentemente, comunicaciones y expectativas para estudiantes y personal.
Compromiso comunitario: Manteniendo comunicación y compromiso comunitario con todos los interesados
Colaboración: Construyendo tiempo para la construcción de la comunidad y colaboración para estudiantes y maestros.
Seguridad de estudiante y personal: Establecer procedimientos y estructuras para asegurar la salud y seguridad de todos los estudiantes y personal.
Salud mental y bienestar: Desarrolle un sistema de apoyo de múltiples niveles para la salud mental y el bienestar de los estudiantes.
Aumentar el acceso: Proporcionar acceso a instrucción de alta calidad, apoyo académico y materiales en línea para cerrar la brecha de logro y perdida de aprendizaje.
Usted puede accesar la encuesta del Comité de reapertura en nuestra página haciendo click aquí.
Estamos en el Proceso de Planeación
Después de revisar la retroalimentación de la comunidad, el Comité de Reapertura, el cual está formado por maestros, administradores y personal de la oficina del Distrito, está finalizando una lista de recomendaciones. Estas recomendaciones han sido acopladas con guas mas detalladas de los oficiales de el condado, informaran de nuestro plan para el año escolar entrante.
Las recomendaciones se dirigen a varios posibles escenarios de cómo pudiera ser la escuela en el Otoño, incluyendo:
Completamente abriendo las escuelas
Proporcionando un sistema híbrido de aprendizaje a distancia y en persona, y
Aprendizaje a distancia para todos los estudiantes
Planeamos compartir la lista completa de recomendaciones la próxima semana.
Cual es el próximo proceso en la planeación
Para mantener la comunidad informada en nuestro cuadro de planeación y cronograma, hemos desarrollado una guía de reapertura del verano que detalla las acciones a tomar y las fechas importantes durante el verano.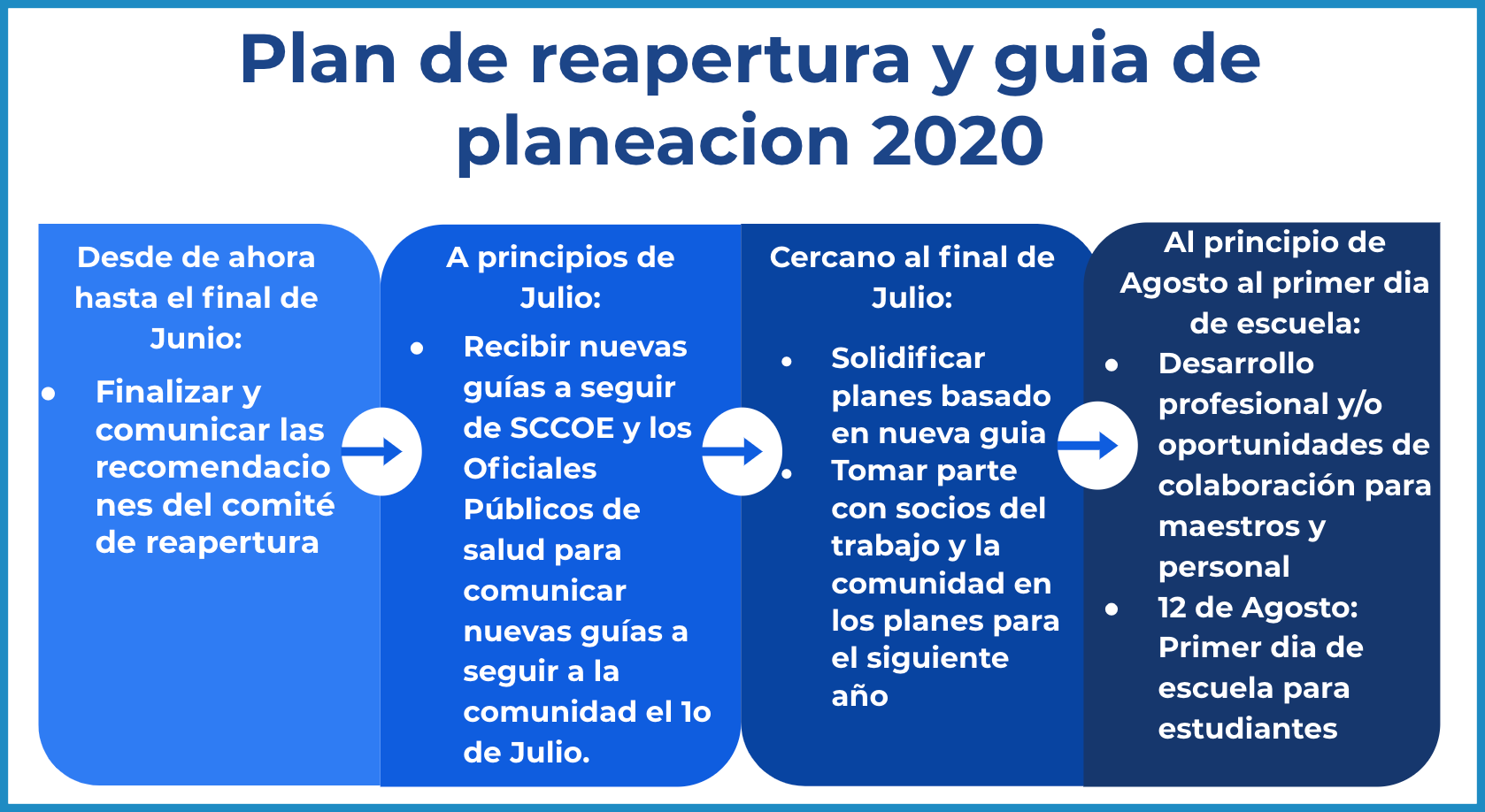 Comunicaciones de Verano
Los Principales de cada escuela y yo continuamos comprometidos a proporcionar información durante el verano. Usted recibirá correos electrónicos con actualizaciones. También le compartiremos alertas de nueva información vía Remind, redes sociales (@mycuhsd en Facebook, Instagram and Twitter) en referente a nuestras actualizaciones del cierre de escuelas e información, la cual puede encontrar en nuestra página web bajo "Quick Links" haciendo click aquí.
Quiero agradecer a nuestra facultad, padres, estudiantes y personal por su paciencia y flexibilidad al navegar los desafíos a los que nos enfrentamos este año con la crisis de COVID-19. Agradezco su apoyo.
Sinceramente,

Robert Bravo, Ed.D.,
Superintendente de CUHSD