Enrollment: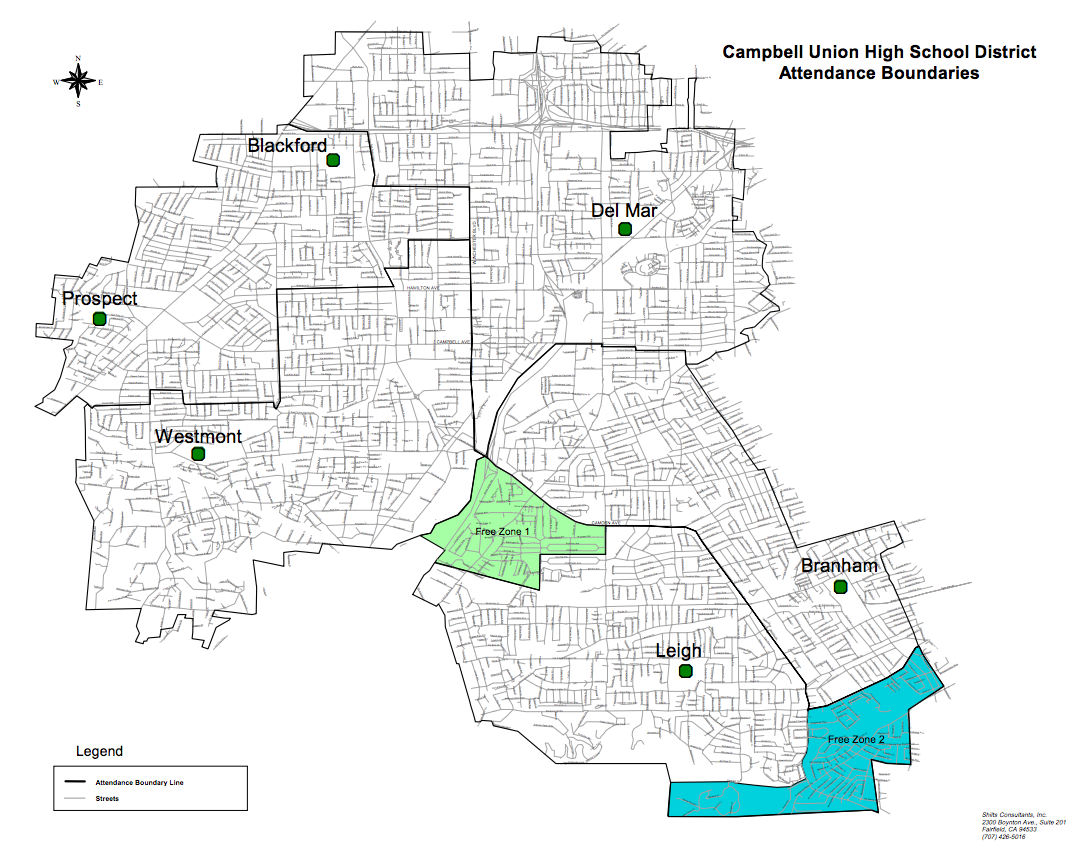 Students who live full-time within the boundaries of the Campbell Union High School District are eligible to attend our schools.  
Interactive attendance boundary map located on the left. 
Enrollment and registration take place via the school site by an online portal for in-district residents, and is facilitated by the assistant principal. The Parent or Legal Guardian should call the school assigned to their residential address to learn more or to make an appointment. 
Parents need to provide several documents for registration. These include:
Proof of residency (see Registration Forms link)
Parent/Legal Guardian valid Identification
Student's up-to-date Immunizations documents             (CUHSD Boundary Map)
Student's birth certificate or passport
Emergency contact information
Physician information                                                                                                                
Current transcript                                                                                               

Bringing a transcript from the student's last school of attendance will help counselors place the student in appropriate classes.

All other documents noted below

For specific documentation, please refer to the Registration Forms link, which are also available in Spanish.
2021-2022 ENROLLMENT-At School Sites only
2021-22 ENROLLMENT @ SCHOOL SITES ONLY
****************************************************************************************
In-District Residents only ENROLL YOUR STUDENT ONLINE!
FOLLOW THE STEPS BELOW TO RECEIVE THE PORTAL LINK
1. Find your CUHSD school of residence (School Locator) and email the Assistant Principal (click on the name) assigned by your students last name. 
2. The Assistant Principal will verify your residence and email a Welcome Letter and Instructions on how to pre-enroll online via the portal. 
3. Please set aside 30-45 minutes to complete the online pre-enrollment process. Please have all of your required documents ready to upload. 
4. Once you have completed the process, the Assistant Principal will contact you to complete the intake process and discuss class placement. 
NOTE: Completion of the pre-enrollment process does not guarantee placement.
CUHSD reserves the right to request in person residency verification at any future date.
____________________________________________________________________________________________
NON IN-DISTRICT ENROLLMENT PROCEDURES
The Registration Forms below are for students who have had an Interdistrict Transfer Form Approved for the school year and need to complete enrollment into the Campbell Union High School District. 
1. Print & complete all forms below 
2. Email the Assistant Principal assigned by your students last name, providing all the required enrollment and residency documents. 
3. The Assistant Principal will finalize all registration and class placement thereafter. 
International Exchange Student Information
International Exchange Student Information:
NOTE:

AS OF JULY 1, 2021

: CUHSD is currently not accepting applications for International Students for the 2021-2022 school year. Due to increased enrollment and factors related to Covid 19, CUHSD campuses are at or over capacity. If such a time comes that we are able to open the enrollment for International Students, we will update that information here. Please check back often as enrollment and CDC/SCCDPH guidelines are fluid. 
To Disenroll A Student
Parents or Legal Guardians:
Go to your school site with the following information to withdraw your student. You may also request a transcript to take with you to your new school.
Student's full name
Date of birth
New school name, city, and state
Effective school year